At CASCADE we are committed to involving people with lived experience of children and families social care in our research. This includes children & young people, parents and carers.
In 2021 we took the decision to set up an Involvement Board to steer and support our work.
This board sits alongside our centre management and supports our strategic plans, holds us accountable and offers some governance to the research centre.
The board meets three times a year and has already implemented some key changes:
Asking for and reviewing Job Descriptions to allow the skills involved in public involvement to be translated into a professional language which can be used for job descriptions and references.
Tackling topics such as our equality, diversity and inclusion.
Addressing digital exclusion and its affects on our groups, in terms of devices and data.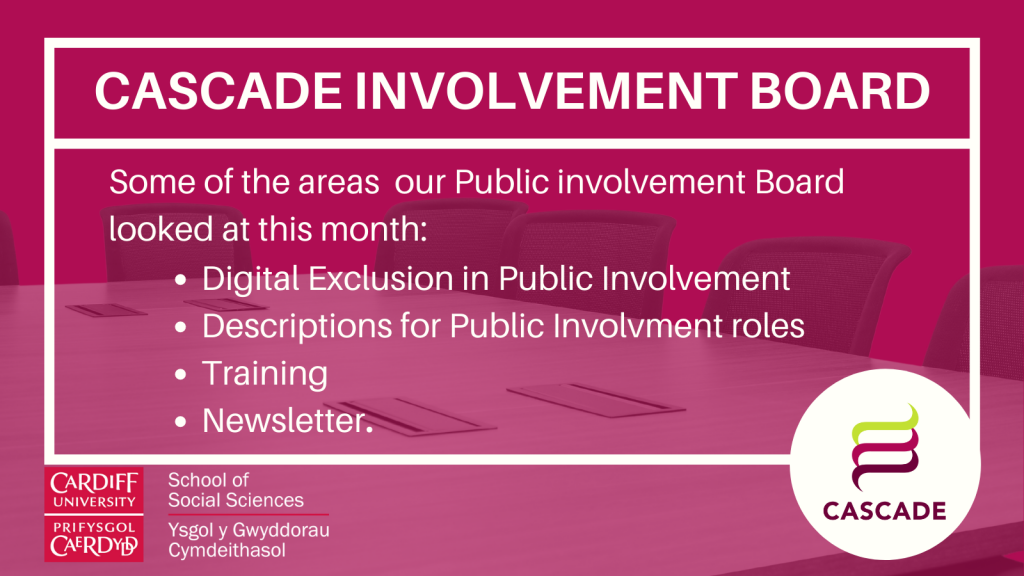 ---
Contact us
To enquire about our groups, costs and services as a member of the public, charity or researcher, please contact: Vaughanr5@cardiff.ac.uk or Lambertpw@cardiff.ac.uk

Our Involvement work is based on the definitions, principles and guidance in the Public Involvement Standards developed by Health Care Research Wales. For further information, please follow this link: https://healthandcareresearchwales.org/public-help-research/uk-standards-public-involvement