CASCADE is committed to involving the voice of lived experience across its research work. The Public Involvement team (https://cascadewales.org/engagement/public-involvement/) at CASCADE is always looking for ways to involve wider voices. We are thrilled to announce this exciting new partnership with AFKA Cymru (https://afkacymru.org.uk/) and Kinship Cymru (https://kinship.org.uk/) to establish a 'Kinship Carer Research and Policy Advisory Group'.
Researcher Lorna Stabler has been the driving force for this at CASCADE. Here are her thoughts:
"We are hearing more and more about why kinship care is essential in the UK, and the need to understand more about kinship families' experiences. That means we need research in this area.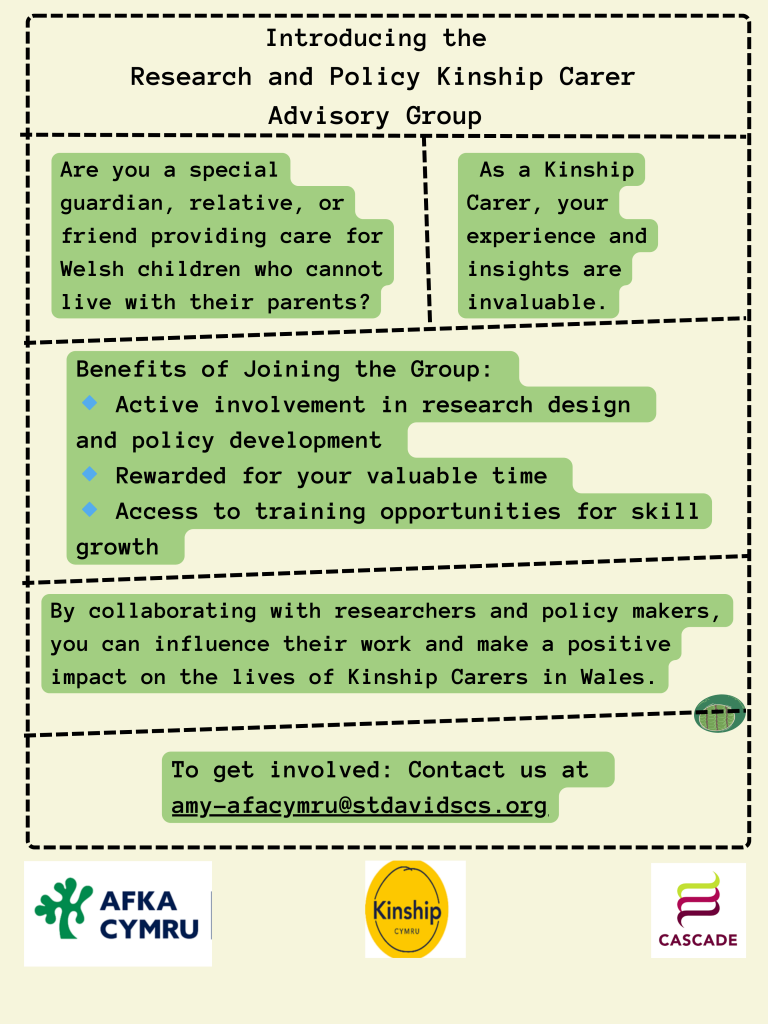 But I realised that, despite there being many passionate and knowledgeable kinship carers in Wales, there wasn't an easy way for them to come together to shape and influence research that is about them! That is why this group is so important. As a kinship care researcher, I couldn't do my job without being able to speak with families to ensure I design research that answers the right questions for them.
That why I was so excited when Amy at AFKA Cymru and Debs at Kinship Cymru agreed to come together to set up the new Research and Policy Kinship Carer Advisory Group. At the first full meeting, I was able to present my ideas for a new project exploring Special Guardianship in Wales with a focus on the emotional, cognitive and developmental needs of children with a Special Guardianship Order. The members helped me to understand more about how I could carry out the research, what areas I should focus on, and how I could engage carers. And, as a bonus, the carers reassured me that I was on the right track and that they would be keen to help shape the project in the future. This group has the potential to influence the next decade of research priorities about kinship care and I am looking forward to seeing it grow and flourish. "
Partnering with fantastic and passionate organisations was key for us. AFKA Cymru and Kinship Cymru will lead on facilitation and supporting the involvement of kinship carers.
Amy Shepherd, a trainer consultant at AFKA Cymru.
"I'm delighted to tell you about my role in co-facilitating the Kinship Carer Research and Policy Advisory Group. At AFKA Cymru, our ethos revolves around learning and development, and I'm honoured to be part of a grassroots initiative that places kinship carers at the forefront of knowledge development.
At AFKA Cymru, we firmly believe that those directly affected by policies should have a central role in shaping them. The Kinship Carer Research and Policy Advisory Group provides a platform for kinship carers to come together, share their experiences, and actively contribute to knowledge development.
Co-facilitating this group has been an incredibly rewarding experience for me. I have had the privilege of witnessing the genuine passion and dedication of kinship carers and the invaluable insight that their lived experiences and stories provide. I hope this group will continue to provide a central space for the involvement of kinship carers in research and policy development, working towards a brighter future for kinship families across Wales."
The group is still at the beginning of its journey, and we look forward to working in partnership with Kinship carers, AFKA Cymru and Kinship Cymru to influence research across Wales. For enquiries about the group please contact: Amy-afacymru@stdavidscs.org